Donations/Your Help
Swift Eagle is an all-volunteer organization with no overhead other than mailings and insurance, so 100% of your donations go directly to those in need in Eagle County. We raise money by hosting one or two major fundraisers each year, from grants received, and from individual contributions.
Your help is truly needed. Our applications continue to rise significantly as people struggle during these difficult times. We rely more than ever on you, our donors, trusting that you see the need to reach out to help the community of people around you. We hope, in a time when good investments are hard to find, you'll agree there is none better than this.
To make a donation, simply send a check to the address shown below. We will send you a receipt and, since Swift Eagle is an approved 501C3 non-profit, your donation is fully tax deductible. We can also process credit card payments. Please give us a call to arrange. We promise to use your donation with care and compassion.
If you wish to donate to the Lorraine Mall Haslee Memorial Fund please specify your intention along with your donation.
Questions about Swift Eagle? Call 970-390-4745
Donations – Please mail donations to PO Box 1977, Avon, CO 81620
Email – info@swifteagle.org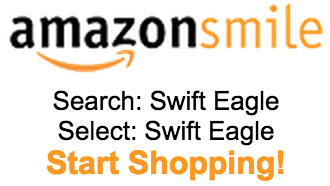 Please consider making donations to Swift Eagle Charitable Foundation by participation in: AmazonSmile
What is AmazonSmile?
AmazonSmile is a simple and automatic way for you to support your favorite charitable organization every time you shop, at no cost to you. When you shop at smile.amazon.com, you'll find the exact same low prices, vast selection and convenient shopping experience as Amazon.com, with the added bonus that Amazon will donate a portion of the purchase price to your favorite charitable organization. You can choose from nearly one million organizations to support.
How do I shop at AmazonSmile?
To shop at AmazonSmile simply go to smile.amazon.com from the web browser on your computer or mobile device. You may also want to add a bookmark to smile.amazon.com to make it even easier to return and start your shopping at AmazonSmile.
How do I select a charitable organization to support when shopping on AmazonSmile?
On your first visit to AmazonSmile (smile.amazon.com), you need to select a charitable organization to receive donations from eligible purchases before you begin shopping. We will remember your selection, and then every eligible purchase you make at smile.amazon.com will result in a donation.
How much of my purchase does Amazon donate?
The AmazonSmile Foundation will donate 0.5% of the purchase price from your eligible AmazonSmile purchases. The purchase price is the amount paid for the item minus any rebates and excluding shipping & handling, gift-wrapping fees, taxes, or service charges. From time to time, we may offer special, limited time promotions that increase the donation amount on one or more products or services or provide for additional donations to charitable organizations. Special terms and restrictions may apply. Please see the relevant promotion for complete details.
Is there any cost to charitable organizations or to customers?
No. There is no cost to charitable organizations or to AmazonSmile customers. The shopping experience is identical to Amazon.com with the added benefit that the AmazonSmile Foundation will donate to the charitable organizations selected by customers.
Does the AmazonSmile Foundation take any portion of donations to fund its operations?
No. Amazon funds the operations of the AmazonSmile Foundation.
Click Here for CO Gives Website